I love Doctor Who.  For anyone that is not familiar with this British television program, the basic premise is as follows.  There is a cool alien that looks human, but regenerates every few season to look like the next actor to play him.  This alien is called the 'Doctor' because no one can know his real name.  The Doctor is a time lord from a planet called Gallifrey and he travels in what looks like an old police call box, much like a telephone booth.  This police box, the TARDIS, takes the Doctor anywhere in time and space, but that is not the only amazing thing about the it.  The TARDIS is bigger on the inside.  We don't know how big, but imagine the Star Trek Enterprise stuffed into a telephone booth and you get close. 
Nursing is like the TARDIS.  
People think they know about nursing.  The public only sees the outside. They see that nurses work 3 days a week and are paid well. They see that nursing is not a glamorous job. They see smiling faces and skilled hands.  
Nursing is bigger on the inside. 

A lot of nurses look cute in scrubs, but even those scrubs lose their appeal when they are covered in various bodily fluids.  I am frequently told by family, friends and random strangers that they could never be a nurse.  I get it.  Nursing is not for everyone.  
Some of us do work 3 shifts a week.  Those 12 hour shifts stretch into 14 or 15 hour days when you add in lunch, report, extra charting and commute time.  The majority of nurses that I have known work much more than 36 hours a week.  
For the most part nurses can at least fake a good mood and do their best to smile.  Smiling and chatting with patients they perform the technical skills that keep patients safe and comfortable.  
Nurses need to be smart, caring, brave, strong willed, strong stomached and have a sense of humor.  We see the worst and best of humanity in our work.  We are happy when our patients do well and cry when they are not.  Nurses monitor, clean, feed, medicate, assess, educate, entertain, console, listen, advocate for and document about patients day and night.  After doctors, therapists, family, friends and even dietary leave for the night, nurses remain at the bedside.  
Caring for patients is rewarding, gratifying and exhausting.  To be trusted to such a degree by a stranger is an honor.  Helping people meet health goals or guiding them through milestones is an amazing feeling.  Even when our patients pass away, helping the patient and family through the process is fulfilling.  
Nursing is much bigger on the inside.  It is easy to get lost in charting, policy reviews and quality audits and forget the art of nursing.  Nurses need to be reminded of the amazing impact that we have on peoples lives.  Nurses not only impact health at the bedside, but have the power to transform healthcare practice.  
Take time to remember how big nursing is and why you do it. Energize and renew your yourself at the Art of Nursing 2.0 event from anywhere in the world.  
Follow Carrie on Facebook and Twitter
This post was written as part of the Nurse Blog Carnival. More posts on this topic can be found at ElizabethScala.com. Find out how to participate.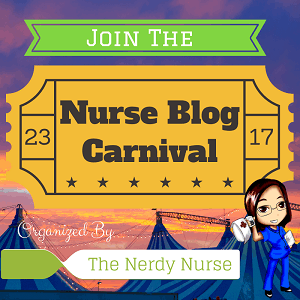 Copyright secured by Digiprove © 2015 Carrie Halsey